Image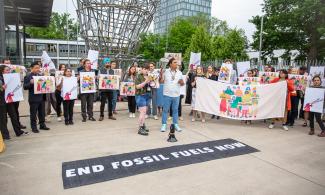 Body paragraph
New figures show Big Oil & Gas lobbyists flooding UN climate talks since Paris Agreement signed
June 8, 2023
Research released today from Corporate Europe Observatory and Corporate Accountability exposes how the Big 5 oil and gas majors have brought more than 400 lobbyists to the UN climate talks since the Paris Agreement was signed at COP21. The five corporations have been equally active in lobbying the EU and US governments, with 375 declared lobbyists in Brussels and over three times that number declared in Washington, D.C. since 2016. 
This lobbying is targeted at delaying and weakening climate action so they can continue the expansion of fossil fuels and profit making, despite the alarming increase in climate disasters thanks in large part to their emissions, wreaking global devastation and destruction. Continuing the world's addiction to fossil fuels is making these same companies eye-watering profits. Last year, the five majors made a record breaking US$200 billion (more than double the previous year), with more than US$40 billion made in the first three months of 2023. 
All five intend to further expand their fossil fuel extraction, with expected emissions by 2025 increasing by more than two and a half times the EU's emissions.
As the next round of climate talks take place in Bonn, Germany from June 5-15 with Shell, Exxon and Chevron in attendance, this year's negotiations look set to be more of the same.
People around the world demand an end to fossil fuel corporate capture of climate talks
Members of the campaign to Kick Big Polluters Out are in Bonn making sure the voices of the millions of people around the world we represent are heard. We are demanding an end to the ability of Big Polluters to write the rules of climate action and to bankroll climate action. We are demanding climate action that centres the leadership of those on the frontlines, and we are demanding a reset of the system so it works for people, not polluters. 
Inside the negotiations, five UNFCCC constituencies are calling for world governments and the UNFCCC to finally and firmly pass an Accountability Framework that protects climate policymaking from the undue influence of the fossil fuel industry and other emissions-intensive industries. And because we have a right to know who is at the climate policymaking table, as a first step we are demanding a protocol that requires all participants in the UNFCCC process to be mandated to publicly disclose their interests before participating in any UNFCCC activity. 
These calls are echoed by more than 130 US and EU lawmakers who recently called on the US and EU governments as well as the UN Secretary General and the UNFCCC Executive Secretary to end the ability of Big Polluters to write the rules of climate action. 
While the people are demanding real and equitable action at the Bonn climate talks, new research shows that the top 5 oil and gas majors are continuing their trend of infiltrating the talks. Some top-line figures, based on analysis of official UNFCCC lists of registered participants, include:
Attending climate talks
Since the Paris Agreement was signed at COP21 in 2015, the five oil and gas majors alone (Shell, BP, ExxonMobil, Chevron, TotalEnergies), have brought 403 lobbyists to the UN climate talks, pushing their agenda of further expanding fossil fuels to continue to rake in unprecedented profit; 
Shell made up for almost half of that figure, ensuring at least 177 delegates attended the talks to lobby for its polluting interest;
Two other European oil and gas companies, Italian Eni and Norwegian Equinor, have sent 138 lobbyists combined to the talks since COP21;
A large portion of lobbying is done through industry trade associations. The International Emissions Trading Association (IETA), which was set up by BP, Rio Tinto and the UN, among others, to lobby for carbon markets, regularly brings the Big 5 into the talks as part of its delegation. In total, it has brought more than 2,300 lobbyists to the negotiations since COP21. The World Business Council for Sustainable Development (WBCSD), which also is a common host for Big 5 lobbyists, has brought more than 1,300 since COP21 in Paris;
Business-interest NGOs and other institutions or governments that brought the Big 5 into the talks include the International Union for the Conservation of Nature (Shell, BP, Chevron, Exxon, TotalEnergies - as well as Eni and Equinor); Fundación Despacio (Shell); the World Bank (Shell and Chevron); the University of Regina, whose carbon capture and storage (CCS) project was funded by Shell, brought eight of its delegates; the Italian government brought Eni into the talks via its charitable foundation.
At COP27 there were more than 630 lobbyists from across the fossil fuel industry in attendance, a rise of more than 25% on the year before at COP26. The UAE brought 70 fossil fuel delegates to the talks, and as this year's host of COP28, the total number is expected to be even higher than previous COPs. 
Big polluters at SB58
Shell, ExxonMobil and Chevron are all registered for the ongoing SB58 talks currently underway in Bonn. Exxon's Michael Gerard Cousins entered incognito (i.e. not listed as Exxon), brought in by the trade association International Petroleum Industry Environmental Conservation Association (IPIECA). Cousins, who is Exxon's Director of Greenhouse Gas and Climate Change as of 2022, has a 40-year history as part of Exxon's oil & gas exploration department. He recently served as its Vice President for Exploration and New Ventures, where, according to his LinkedIn profile, he "set the vision and direction of ExxonMobil's global exploration activity";
The biggest single delegation at SB58 is the UAE, with 104 members registered. The UAE also had the biggest delegation at COP27, including 70 fossil fuel lobbyists;
IETA has 31 registered delegates, many of which have fossil fuel affiliations, including representatives of Shell and ConocoPhillips.
Lobbying the UNFCCC, US and EU
Since the Paris Agreement (2016-2023), the five oil and gas majors spent $220 USD million on lobbying US decision makers, declaring 1,330 lobbyists over that period. In the EU, the same companies spent almost €99 EUR million on lobbying, declaring 375 lobbyists, and securing more than 200 meetings with top Commission officials since 2016.
Shell was the biggest presence in Brussels, spending €32 million since 2016 and declaring 77 lobbyists. ExxonMobil was the biggest presence in Washington, spending almost $70 million with more than 360 lobbyists declared over the period.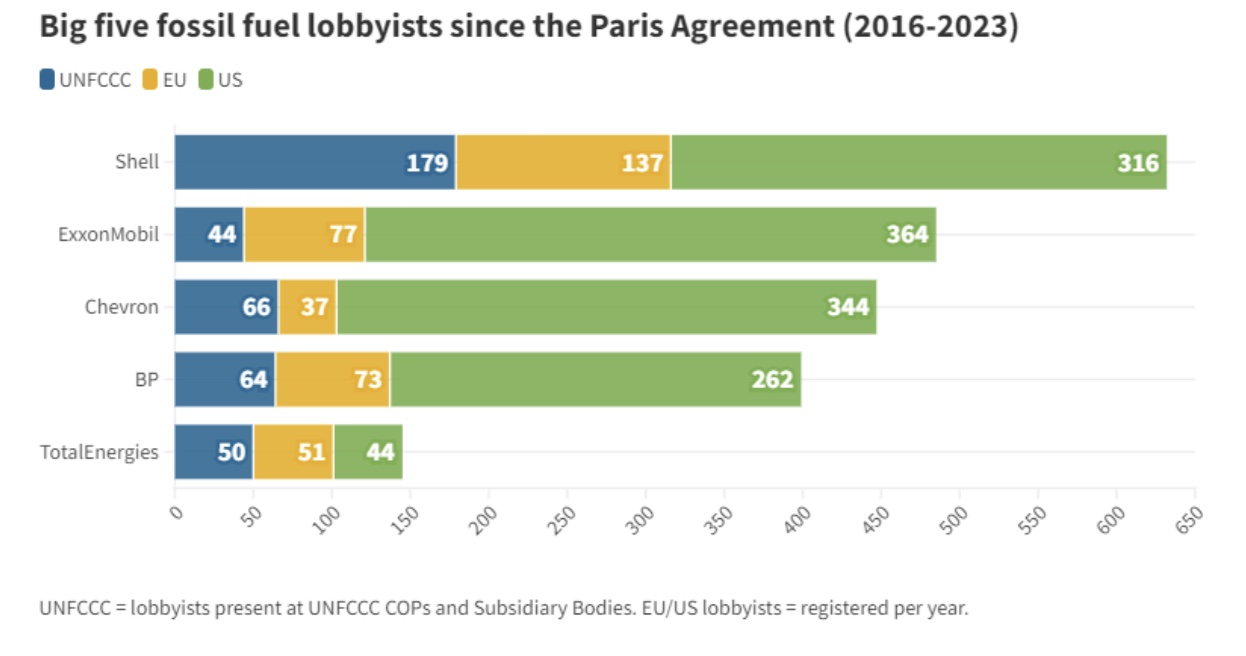 Profits
In 2022, the five majors made record breaking profits of $200 billion, more than double what they made in 2021;
Norwegian Equinor made $75 billion last year, compared to $33 billion last year;
In the first quarter of 2023, the five majors made more than $42 billion, with ExxonMobil alone making more than $11 billion.
Expansion
***NOTES***
EU lobbying data: https://www.lobbyfacts.eu/ 
US lobbying data: https://www.opensecrets.org/ 
UNFCCC participant list: https://unfccc.int/
UNFCCC lobbyists: Delegates that are considered lobbyists are those entering the UNFCCC negotiations under a fossil fuel company or under a fossil fuel-affiliated organisation. 
Big 5 2022 profit data: https://www.energymonitor.ai/finance/big-oil-profits-soared-to-nearly-200bn-in-2022/ 
2023 Q1 Big 5 profit data: https://www.statista.com/chart/27887/big-oil-sees-profits-increase/; https://www.reuters.com/business/energy/bp-profit-rises-5-bln-share-buyback-is-reduced-2023-05-02/