Image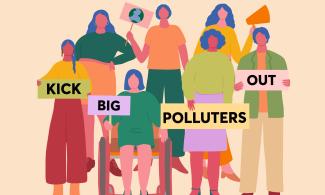 Body paragraph
PRESS INVITE - Thur 10 Nov, 9AM
Action in Egypt: climate activists to protest Big Polluters at COP27
The climate crisis is upon us, yet world governments continue to protect the interests of a few greedy corporations instead of the people who are most affected. Nowhere is that more clear than at COP27, where Big Polluters like fossil fuel lobbyists have once again converged to greenwash their polluting image and block the climate action we so desperately need.
Join activists on the ground in Sharm El Sheikh to demand that governments kick Big Polluters out of the climate talks once and for all! Activists representing more than 450 organizations around the world will present their demands to end the fossil fuel stranglehold over climate negotiations. The message to the world?
POLLUTERS OUT, PEOPLE IN!
When: Thursday November 10th at 9:00 AM
Where: Action Zone 1 (located just after you've scanned your badge and left the registration tent) and live streamed at https://www.facebook.com/ClimateJustice. For media inquiries, please contact reachout@kickbigpollutersourg.org